Meaning Of E commerce…
E-commerce (electronic commerce) is the activity of electronically buying or selling of products on online services or over the Internet. Electronic commerce draws on technologies such as mobile commerce, electronic funds transfer, supply chain management, Internet marketing, online transaction processing, electronic data interchange (EDI), inventory management systems, and automated data collection systems.
Types Of E commerce…
As commerce continues to evolve, so do the ways that it's conducted. Following are the most traditional types of e-commerce models:
Business to Consumer (B2C): B2C e-commerce is the most popular e-commerce model. Business to consumer means that the sale is taking place between a business and a consumer, like when you buy a rug from an online retailer.
Business to Business (B2B): B2B e-commerce refers to a business selling a good or service to another business, like a manufacturer and wholesaler, or a wholesaler and a retailer. Business to business e-commerce isn't consumer-facing, and usually involves products like raw materials, software, or products that are combined. Manufacturers also sell directly to retailers via B2B ecommerce.
Consumer to Consumer (C2C): C2C e-commerce refers to the sale of a good or service to another consumer. Consumer to consumer sales take place on platforms like eBay, Etsy, OLX etc.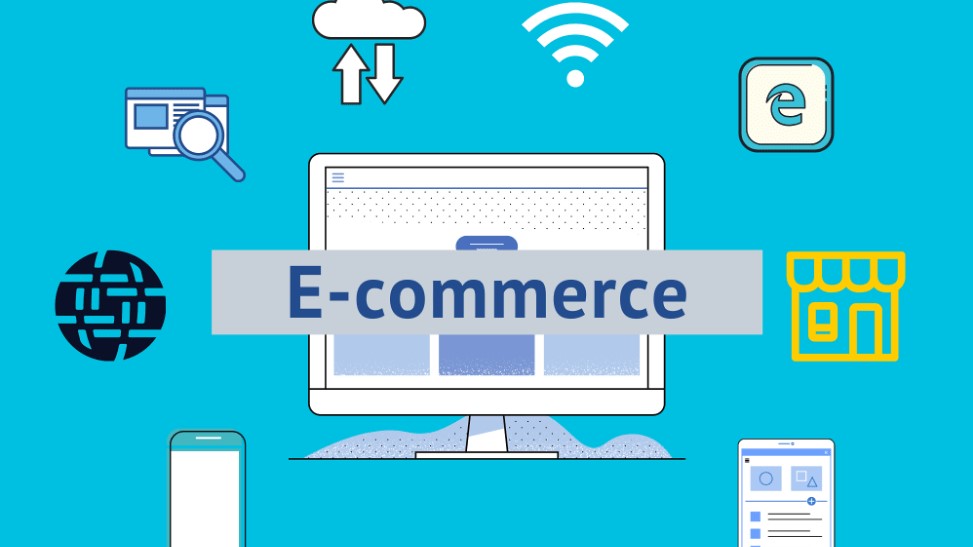 Examples Of E commerce…
Everyone from independent freelancers to small businesses to the largest of corporations can benefit from the ability to sell their goods and services online at scale.
Here are some examples of types of e-commerce:
Retail: The sale of products directly to a consumer without an intermediary.
Dropshipping: The sale of products that are manufactured and shipped to consumers via a third party.
Digital products: Downloadable items like templates, courses, e-books, software, or media that must be purchased for use. Whether it's the purchase of software, tools, cloud-based products or digital assets, these represent a large percentage of ecommerce transactions.
Wholesale: Products sold in bulk. Wholesale products are usually sold to a retailer, who then sells the products to consumers.
Services: These are skills like coaching, writing, influencer marketing, etc., that are purchased and paid for online.
Subscription: A popular D2C model, subscription services are the recurring purchases of products or services on a regular basis.
Crowdfunding: Crowdfunding allows sellers to raise startup capital in order to bring their product to the market. Once enough consumers have purchased the item, it's then created and shipped.
Companies Killing The E Commerce Platform
E-commerce accounts for trillions of dollars in sales every year. Today it's almost inconceivable that a company wouldn't be using a digital space to drive sales and bottom lines.
Here are some of the top e-commerce companies:
Alibaba: Launching in 1999, The Chinese company Alibaba is by far the world's most successful e-commerce company and retailer, hosting the largest B2B (Alibaba.com), C2C (Taobao.com), and B2C (Tmall) marketplaces across the globe. Their online profits have surpassed all US retailers – including Walmart and Amazon – combined since 2015.
Amazon: Amazon is the largest e-commerce retaier in the United States, and has changed the face of retail so much that a burning question for most retailers is how to beat Amazon.
Walmart: Once the top retailer in the US, Walmart has focused mightily upon their online business, with great results, offering traditional retail sales, as well as grocery delivery and subscription services.
eBay: One of the first e-commerce sites, eBay still dominates the digital market space, allowing for businesses and individuals to sell their products online.
Wayfair: This home furnishing e-tailer is a drop-shipper, carrying hardly any inventory. They manage suppliers, orders, and fulfillment, and credit their success on personalization – meaning they study how their customers engage and offer up products they believe consumers most want.
Conclusion…
E-commerce still represents one of the business methods that take advantage if done the right way, even if the stock market and commodities fell, but E-Commerce still able to survive and receive high transaction. E-commerce has a tremendous opportunity in the course of or business in Malaysia. In addition, it is also to introducing new techniques and styles in a transaction. Use the extensive E-Commerce in the Internet world is actually much better to bring the goodness of the individual or the state.
E-Commerce has undeniably become an important part of our society. The successful companies of the future will be those that take E-Commerce seriously, dedicating sufficient resources to its development. E-Commerce is not an IT issue but a whole business undertaking. Companies that use it as a reason for completely re-designing their business processes are likely to reap the greatest benefits. Moreover, E-Commerce is a helpful technology that gives the consumer access to business and companies all over the world.
Also View:- ZOOM CALL ON BUSINESS MANAGEMENT
---
Thank You For Reading.
-Zalak Haria
Something Wrong Please Contact to Davsy Admin